Take advantage of Google's data processing prowess through AAXIS Data Insights to make superior decisions in real time. A fast, reliable and cost-effective way to combine your digital interaction data with all your back-end data points using Google Cloud Platform.
Google already plays a big part in customer acquisition, awareness & analytics for eCommerce businesses. For example, Google products, like Adwords, are used by enterprises big and small to make marketing tasks like market research, brand awareness, and advertising more robust. Even though Google's search engine and advertising tools help in creating awareness and attracting potential customers, it is Google Analytics that helps businesses understand the customer journey on their website and curate customer experiences.
This article series helps you go beyond the basic eCommerce website analytics and connect all your customer touch points using Google Cloud data products and integrations to handle the volume, velocity and variety of your data and provide real-time insights that improve your customer engagement and acquisition such as:
Bounce Rate
Time on Site
ROAS
CPM
Traditional eCommerce analytics are critical for understanding how your customers are interacting with your eCommerce website, but what about your other customer touch points?
---
Traditional eCommerce Analytics
Let's look at a common eCommerce Analytics scenario.
Website Analytics

Most Companies start with web analytics to ensure they keep track of traffic, customer acquisition, audience, customer journey, and more on their website. The metrics provided via web analytics are especially useful in understanding customer behavior on the website and helping develop marketing strategies.

vs.

Data Warehouse Analytics

In addition to web analytics, companies generally have their own proprietary setup for data warehousing and analytics. This key component of the analytics structure stores current and historical data collected for decision-making and aggregated reporting. Typically, it is responsible for all data besides what's gathered from third party sources.
However, most businesses find it difficult to source and connect data points like user interaction on the website, customer acquisition, customer journey, marketing campaign, and data from third-party analytics platforms in their data warehouse - it simply wasn't designed to bring all these different types of data together.
Google Cloud Platform includes tools to combine eCommerce Analytics with your existing Data Warehouse and other 3rd party data points allowing you to see real-time insights from ALL customer touch points.
---
Modern eCommerce Analytics on Google Cloud Platform
Google Cloud Platform provides various tools and integrations to optimize your eCommerce analytics and decision making. The ability to analyze real-time interactions at scale empower you to experiment and optimize the customer experience and customer acquisition through your digital channels. Some example scenarios where businesses can take advantage of a modern eCommerce Analytics Platform are:
Optimize Ad spend by finding cause and effect of impression in real-time
Leverage customer patterns identified from online interaction to engage with customers through outbound marketing
Discover & Optimize customer segments across your eCommerce site, CRM & marketing automation tools
Here's what a modern eCommerce analytics life cycle could look like utilizing the Google Cloud Platform.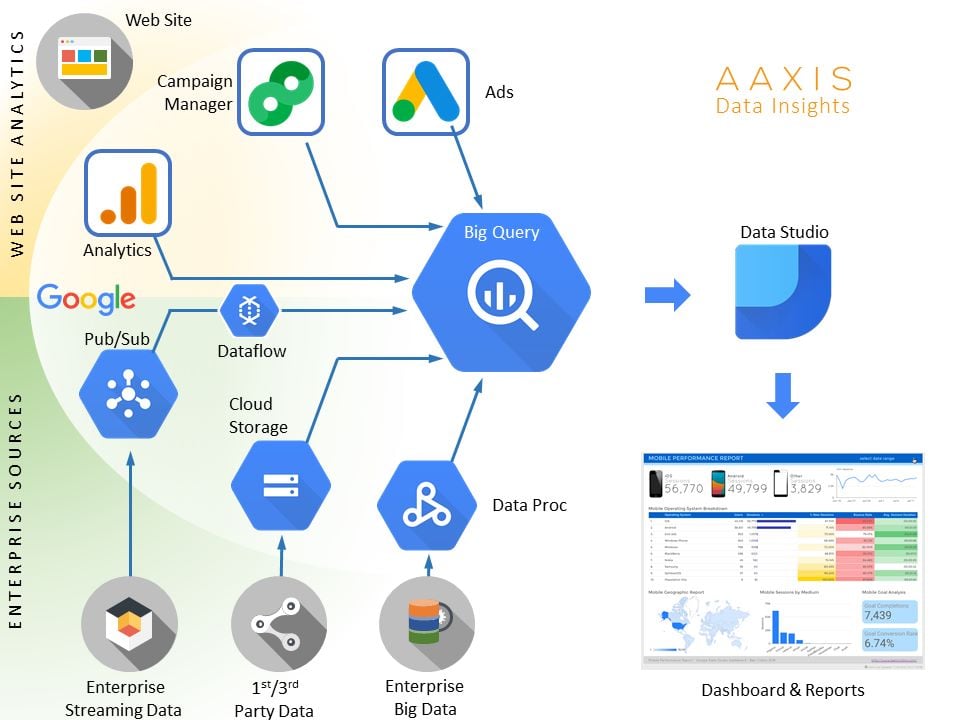 An example setup for eCommerce analytics on Google Cloud Platform is shown in the steps below.
Create your data repository using BigQuery.
Connect your Google Analytics, Google Ads, Campaign Manager and other Google SaaS product data to BigQuery. Use this feature to integrate customer journey on your website, marketing campaigns and more with data from backend systems.
Take advantage of streaming data in your enterprise by capturing them using Google Cloud Pub/Sub. Then, subscribe to the events of interest for batch or real-time analytics in BigQuery.
Upload first party data through Google Cloud Storage.
Transform and/or aggregate complex data structure easily and efficiently for analysis through Google Cloud DataFlow.
Lift and shift your Big Data ecosystem like Hadoop jobs, HDFS data or others into Google Cloud using Dataproc and make best use of your current investment in Big Data technologies.
Finally, you can easily publish your reports or dashboards through Google Data Studio and make them available on demand within your organization.
Our next article Going Beyond eCommerce Analytics with Google Cloud Platform will explain how to automate actions using machine learning and AI once you have your data repository and analytics operational on Google Cloud Platform.

If you want to learn more about how AAXIS Data Insights can help you leverage Google Cloud Platform for your eCommerce Analytics,
.