- Customer Story -
Zenni Optical
Zenni disrupted the eyewear industry by innovating one of the first online "virtual fitting" experiences while making the online shopping experience easier and hassle-free for prescriptions customers.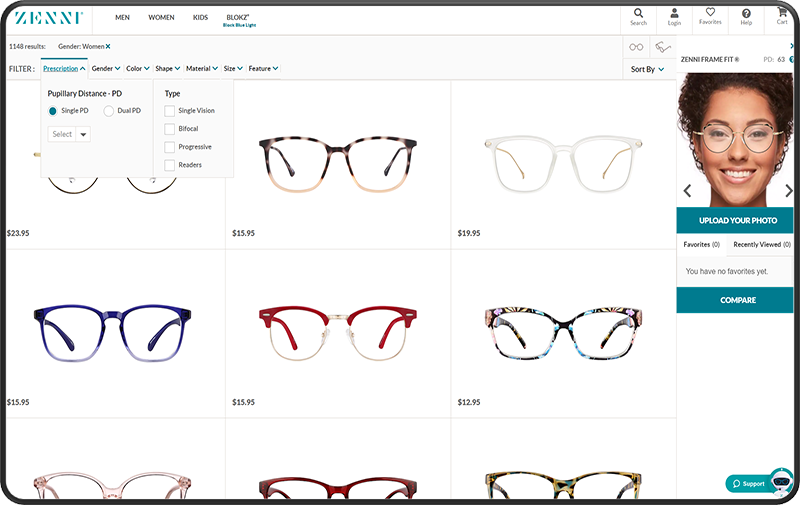 Who?
Doesn't everyone deserve to look good while wearing an affordable pair of glasses? Thus Zenni was born in the San Francisco Bay Area – a natural fit in the home of forward-thinking, tech-savvy companies. The mission was clear: Give people glasses they can actually afford but still make them look like a million bucks. It started small, a little company with big ideas, but it quickly grew into a phenomenon. Fashionistas, moms on-the-go, discerning customers; everyone found that they could get the selection they deserved at prices they could afford with Zenni Optical.
Zenni has since grown into an online optical industry leader. That's prescription eyeglasses online. Prescription sunglasses online. Non-prescription sunglasses online. Sports glasses online. Goggles online. Maybe you get the picture. Zenni's online.
The business in numbers
0
square-foot manufacturing facility
>
0
frames available online
>
0
pairs of prescription eyeglasses shipped every day
The Project
Zenni wanted to make finding the perfect frame as easy and intuitive for customers as browsing around in a store. Complicating this goal was the enormous selection of frames that made it hard scrolling through the site trying to find exactly what you're looking for without having an idea in mind beforehand. Zenni was intent on emulating a real-world customer buying experience and wanted:
The ability for online visitors to upload their picture and virtually "try on" frames
To make it possible for prescription customers to enter their RX details as part of the checkout process and not waste time later filling out forms
Our Approach
In order to address Zenni's growth plans, AAXIS Digital designed and implemented a highly scalable digital commerce solution, built on the Oracle Commerce platform, that could accommodate significant increases in site traffic and orders. This new scalable solution further allowed Zenni to expand its marketing strategy by enabling Customer Service and Marketing teams to more easily and quickly make content & merchandising updates to the site without intervention by IT resources.
We then designed and automated processes to enable merchandisers to manage vast selections of eyewear with fewer resources. These processes also improved site performance and significantly increased the capacity for greater site traffic and orders, which allowed Zenni to more aggressively activate online and TV marketing campaigns.
Since buying glasses is a visual experience, we designed the search and facets to allow customers to browse the catalog seamlessly and choose a multitude of frame attributes to find a perfect pair with ease. Zenni then wanted to take this one step further and asked us to develop an online Frame Fit feature that would allow users to virtually "try on" frames. After successfully implementing Frame Fit, we took it one step further and enabled customers to use a compare feature with Frame Comparison on their personal photo by color, lens shape, or saved favorites.
Want to learn more?
Connect directly with an AAXIS expert today.
The Results
By re-imagining how customers could browse and buy glasses online, Zenni disrupted the online glasses vertical and made shopping fun and frictionless for their customers.
An advanced and innovative way to quickly browse frames by style, RX type, price, etc.

Allowed users to "try on" all frames using an image of their own face which is automatically resized to align with the frames.

Enabled Zenni to increase their product catalog and manage thousands of different prescription configurations on the back-end, while allowing users to complete a user-friendly order form with all relevant options being calculated dynamically and seamlessly.
This new customer experience paid off within the first year.
Online Traffic increased by 33%
Online Revenue improved 26%
New Visitor Traffic increased by 39%
Pages Viewed per visitor increased by 21%
Page Load Speeds improved 58%
Transactions increased 17%
AAXIS Digital is committed to delivering enterprise digital solutions that deliver the results you need. Get in touch for more information on how we can support your business and help your online presence thrive.