- Customer Story -
VTR
The Chilean telco VTR has always been connected to the needs of its customer base - but with the management of customer queries becoming overwhelming, it needed a new self-service solution fast.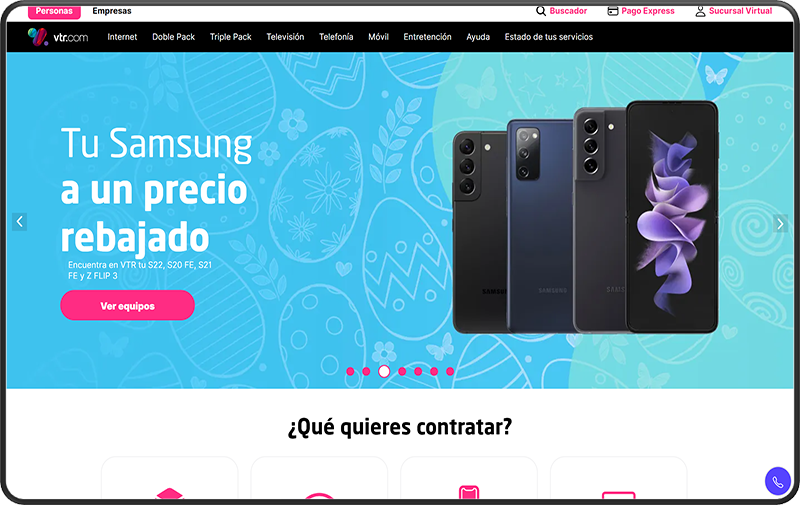 Who?
Operating as the largest provider of subscription television and fixed broadband Internet access in Chile, VTR Comunicaciones is a telecommunications company focused on delivering its services to private users and individuals across the country.
VTR is also the second-largest provider of fixed telephone services and has recently started to branch into the cell phone business. With so many different lines of service available to customers, VTR is connected to the needs of its customer base - both in terms of its communications and entertainment provisions.
The business in numbers
0

%

Focus on customer needs
The Project
As is so often the case with service providers and telecommunications companies, huge resources must be channeled into customer service. More often than not, that means call centers and helplines; however, VTR knew that they were putting too much time and effort into answering considerable amounts of calls - many of which could have been managed by the customer themselves if they had access to their own account.
Prior to bringing AAXIS Digital on board, VTR was already making moves towards building a digital channel for customer self-service online. However, through shifting customers towards an online service, VTR realized that the existing digital channel their company was using was not able to handle the volume of requests. Not only that, but it did not support all the requests that customers wanted to make.
In line with VTR's obstacles and the end goal of giving customers more management and control over their own accounts, AAXIS was engaged to create a platform where new features could be created and added, without affecting the standardized customer experience across all 25 operational countries.
In short, the main problems that AAXIS Digital was enlisted to address were:
Lack of flexibility around new customer features

Concerns around the retention of a standardized customer experience on a new platform

The inability of the existing platform to manage customer volume

High resource use in call centers driven by customer requests
Our Approach
In order to give VTR the online platform that it needed to manage customers' growing online demands, we decided to first approach the structural foundation of the existing digital platform, to establish agility and ensure that the platform was suitable for the required scalability. It was also important to ensure that the architecture of the site provided a common business language layer to facilitate new services.
As part of this, we focussed on:
Restructuring internal systems to interact and communicate through a new standard business language layer

Creating an extendable architecture on the original site which was built using scalable and failure-resistant patterns, to reduce the risk of production outages and performance issues. This was specifically implemented to ensure that the system could manage increased volume in the future.

Delivering common extendable CSP function services that could be customized to local business processes and integrations - making sure that different local users would see relevant information for their area.

Implementing a process for the automation of cloud provisioning, continuous integration, and continuous new feature deployment to ensure that the system was constantly able to and ready to update to meet market demand.
The primary goal of the project was to use technology and the existing standardized digital platform to reduce demand on call center customer service resources, giving customers the ability to self-serve and self-manage their own requirements.
Want to learn more?
Connect directly with an AAXIS expert today.
The Results
The improvement in customer satisfaction since the launch of this project has been unmatched, with the new digital platform having an immediate and positive impact on the customer experience and allowing call center traffic to be vastly reduced. This in turn led to a big decrease in operating costs across call center locations.
The new system was also successful in giving VTR and its partner companies a platform through which to integrate and roll out new services, including:
An online product catalog
Online purchase methods
Digital self-care support
Product offer qualifications for different customers based on their loyalty and existing usage
The space to expand into new markets and offer new technology stacks to customers
This has kept VTR ahead of the competition and has given the company the ability to expand, acquire and grow across multiple markets.
AAXIS Digital is committed to delivering enterprise digital solutions that deliver the results you need. Get in touch for more information on how we can support your business and help your online presence thrive.