VTR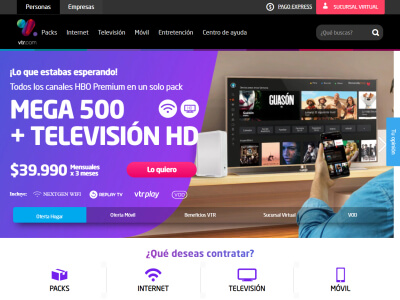 Company Overview
VTR is a leading company in telecommunications services in Chile, which is part of the Liberty Latin America group, a US company formed in January 2018. Currently, VTR leads the television and Internet industry in the country, connecting with the highest HFC network technologies (hybrid and coaxial), to more than 3.5 million homes with high internet speeds, and digital television.
Challenge
VTR like other telcos has considerable amounts of calls coming in to their call centers. To better manage these issues and lower operational costs, they wanted to shift more of the their consumers online to self service their needs.

The existing digital channel was not able to handle the volume of requests as they started shifting their customers online.

VTR also wanted to have a standardized customer experience across their operations in 25 countries.

The company also felt it was not able to keep up with improving and building new features as fast as the market demanded.
Approach
To address the new online needs of the customers, the enterprise architecture was overhauled. The way internal systems interacted was restructured by creating a standard business language layer (TMF open API) so all systems could communicate through this layer. This unique approach gives business flexibility to plug and play best in class solutions for their changing business needs.
We created an extendable architecture built upon scalable and failure reliance patterns to reduce risk of production outages and performance issues because of increased customer volume to the digital channel for self service.
We provided common Telco functional services (based on TMF) that can be extended and customized to local business processes and integrations. This enabled business to expand in different regions without worrying about the local technology stack and also gave them visibility into business performance through a common data layer that captured events across the enterprise.
We designed a devOp process for automating cloud provisioning, continuous integration and continuous deployment to release features and functionalities continuously based on market demand.
Results
The customers were now able to add new line, port lines, pay bills, get more OTT service through the digital channel without having to call the call center or going to a physical store. New digital services for self care had improved customer satisfaction and reduced the call center cost.
The new system also enables LILAC companies to quickly integrate and rollout core telco services, such as, catalog, purchase, self care, product offer qualification, product ordering to keep them ahead of the competition.
Additionally, having a scalable and flexible technology stack helped LILAC to expand, acquire and grow in multiple markets through easier integrations.