- Customer Story -
SupplyCore
In an industry where time is of the essence, delivering timely supply and logistical information is key.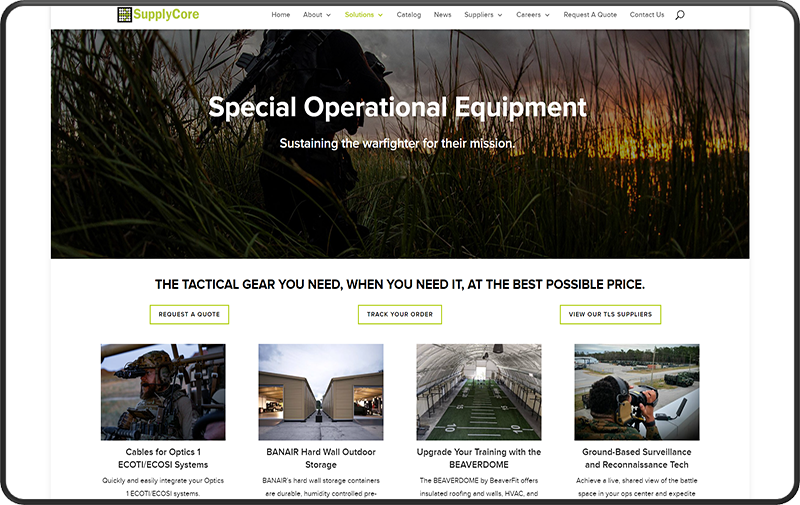 Who?
SupplyCore Inc. is a supply chain integrator, founded in 1987. The company works with federal defense organizations as a contractor, supporting the US military and its allies with supplies, maintenance services, and transport between strategic locations as required.
Logistics solutions for the military are a time-sensitive and integral role in maintaining national protection, and so it is important to SupplyCore that they are able to provide the high level of service and supply support that different locations need - when they need them.
"AAXIS impressed our organization from the initial meeting. They did the work necessary to understand the complexities of our programs and internal processes. Since that time, they have developed our ideas into a rich user experience for our customers and have become a trusted advisor in offering creative ecommerce solutions to our complex challenges. I highly recommend the OroCommerce platform and AAXIS as a quality digital solution provider."

Jon Marceleno, Director of Global Sales
The business in numbers
>
0
Manufacturer, supplier and distributor parnters
>
0
Awards (and counting!)
The Project
As a supply chain integrator to the U.S. military, federal agencies, and allied governments around the world, SupplyCore supports customers who have highly complex procurement processes. Nearly 100% of the orders are custom, non-catalog items. The order capture, sourcing, and fulfillment processes may span several months and involve multiple parties, application systems, a government oversight entity, and observance of numerous rules of governance.
Hence, the status of the quote/order at any point in time is incredibly difficult to ascertain when the customer asks this question. As a result, the sales team is often engaged in long calls with the customer to explain the order status, reasons if it is delayed, and when to expect delivery.
Our Approach
In order to deliver the best customer service possible, SupplyCore wanted to proactively provide the information the customer seeks. Their goal was to empower customers with digital capabilities, so they can complete their work as efficiently and as effectively as possible:
Customer

accounts management
Request for Quote (RFQ)
Facilitate the back-and-forth communications typically involved for a custom order
Real-time

negotiation

and

approvals
Status of the quote/order

from creation until its final delivery (and returns)
In the backend, build real-time integrations to connect the various systems and parties.
Want to learn more?
Connect directly with an AAXIS expert today.
The Results
Deployment of a modern B2B digital commerce platform for SupplyCore's customers:
Visual,

intuitive customer interface

to show the order status
Able to

support all the complexities of custom orders

100% online
Asynchronous communications between the customer and the agent from within the order context at the most complex states
Enabled SupplyCore to

retire legacy applications
Reduced time-to-market and development costs by leveraging the same platform for multiple business functions:
Launched a Covid19-specific site at the beginning of the pandemic to help customers procure PPE
Constructed a new site

to support a different line of business, GSA,

in less than 90 days
Provided CRM functionality

and built-in integrations

to enhance sales team execution
AAXIS Digital is committed to delivering enterprise digital solutions that deliver the results you need. Get in touch for more information on how we can support your business and help your online presence thrive.