Sheet Music Plus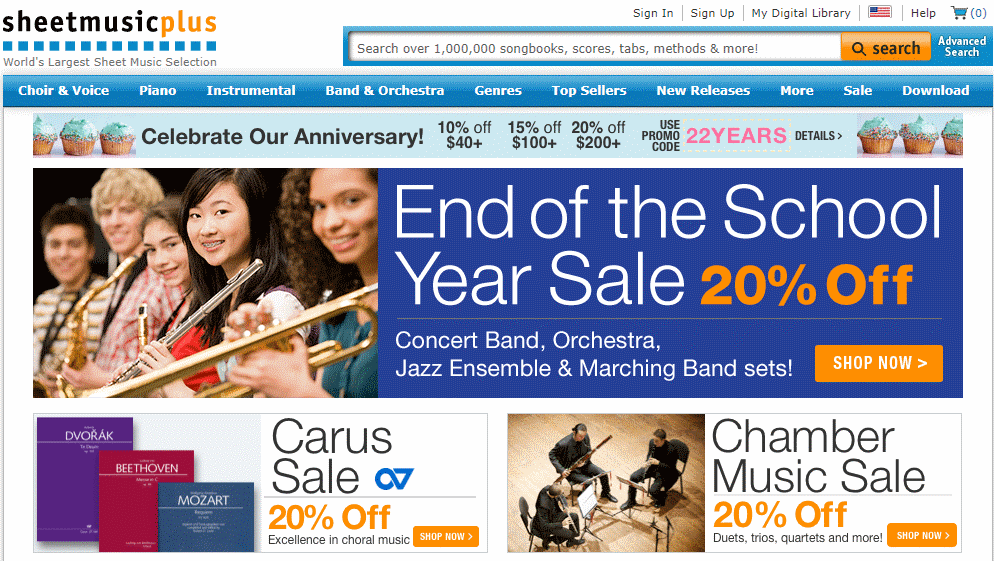 Company Overview
Sheet Music Plus offers the world's largest selection of sheet music. We're your online sheet music source for music books, music sheets, songbooks, music scores, choral sheet music and more! From piano sheet music to flute sheet music, choral sheet music and octavos to guitar tabs, Christian sheet music to Jazz sheet music, and beyond, you'll find it here.
Service Areas
The Goal
Sheet Music Plus is a global leader in the online sheet music retail vertical. Sheet Music Plus saw an opportunity to increase ongoing YOY sales 15-20%+, to grow market share by 20% and to reach their 5 year revenue goal of $59MM. To achieve their goals, Sheet Music Plus needed new ecommerce capabilities that would allow them to increase conversions, increase SEO traffic, optimize global revenues, and maximize their ability to empower both the IT and "the business", change their offering and overall customer experience through rapid digital innovation.
The Solution
Implementation of multi-site and multi-currency, Oracle's Endeca Search and Experience Manager
Merchandising Capabilities: Content groups, promotions, shipping, tax configurations, etc., all maintained through the BCC portal.
Integrations:
SMP Digital Locker – In-house SMP app to download PDF of digital music
SSO API – All SMP applications used ATG as the point of reference for Profile data
Catalog Integration – SMP hosted PIM, XML based integration where SMP would send Catalog data updates
Order Integration – Filemaker XML integration.
Bronto – Email marketing
Affiliates – In-house Affiliate system and Commission Junction.
Channel Advisor – Order XML drop from marketplace like Amazon.
PayPal and Litle – Payment Gateways
Analytics – Google Analytics & Google Tag Manager
The Results
Conversion up 18.67%
Conversions were vastly improved for several reasons. One, the millions of SKUs were more easily searchable through search relevancy optimization and more relevant search facets.
Transactions up 8.58%
Transactions were increased due to a more intuitive and faster checkout flow.