- Customer Story -
Ferguson
Once a small local distributor and advisor for the plumbing industry, Ferguson needed a way to harness its immense offline success and plant it into a digital business model.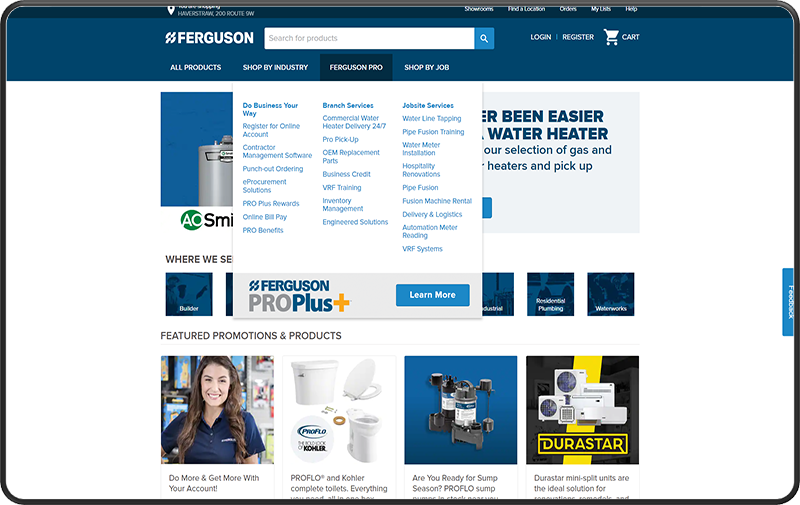 Who?
Plumbing lies at the heart of Ferguson's business model and success, supplying commercial and residential properties and industries around the United States with plumbing supplies, expert advice, and reliable service.
As well as internal plumbing, Ferguson also partners with a multitude of businesses to support and supply HVAC equipment, waterwork pipes and valves, kitchen and bathroom lighting and appliances, maintenance and repair tools and products, and fire protection products for private and commercial buildings.
Ferguson PLC was founded in 1953 as a local distributor for small plumbing contractors. The business now leads the industry in plumbing supplies, with $22.8 billion in sales to its name.
The business in numbers
>
0
Locations across North America
The Project
Ferguson's mission is to deliver a leading customer service, the broadest range of products and services in the industry, the highest level of technical expertise, and an unrivaled supply chain across every operating market.
While the business had previously focussed its energy on large companies and national chains, delivering high-touch and low-technology customer service through very personal relationships to great success, Ferguson found that online B2B marketplaces were starting to threaten the viability of their business model. Companies that used advanced digital technologies were seeing a wider customer reach, providing greater price competitiveness, and ensuring next-day delivery of a seemingly unlimited product range, by engaging with the rich technology.
And so, Ferguson reached out to AAXIS for support with a digitalization project, putting an online customer experience at the core of the business.
Our Approach
Starting with a successful business model which already held both a national and local customer base, the approach with this project was to use digital to amplify Ferguson's customer offering rather than replace it. Of particular importance were the 31,000 associates who are at the very heart of Ferguson's business and are responsible for the business being named as one of America's Best Employers by Forbes magazine - with the project aiming to support them rather than push them out.
The first step of the project was to create a multi-brand, multi-site digital commerce platform where B2B customers could connect with the brands they needed to source and order through Ferguson. The aim of this was to deliver customers a personalized and smooth experience that would enable them to supply and operate their own businesses more efficiently, with the help of Ferguson.
This included building and activating:
Account management capabilities for every customer, allowing them to access the status of every order, manage their invoices and collect quotes

The ability for customers to request quotes or book an order at any time of the day or night

A site with live real-time inventory, collating the information from every one of the 1,600 brand locations and distribution centers. This would then give customers the ability to see which products and brands had stock, enabling them to manage their own project timelines and customer expectations.
Following this initial phase of the project, our work with Ferguson has continued, with the existing phase delivering an omnichannel experience for B2B, B2C, and system-to-system customers.
Want to learn more?
Connect directly with an AAXIS expert today.
The Results
Since launching the initial B2B build of Ferguson's digital space, the business has seen a gradual but distinctive migration of customers from in-person ordering to the online channel. This has meant that the business has benefitted from:
A reduction in the cost of sales due to the increase in self-service orders and reduced customer service calls. This means the profit from each order has increased

An increase in revenue through customers purchasing more products per order when shopping online

A seamless process for customer's to reorder stock they need, again resulting in an increase in revenue and repeat orders

Improved customer satisfaction due to the efficiency of the process, the convenience for customers, and an improved rate of product findability and transparency
The digital build included the launch of an exclusive branded mobile app, which has successfully given customers an on-the-go solution and allows them to order online and pick up their items from a branch, often within an hour of ordering. This, as well as the full website, has enabled Ferguson to expand into lower customer segments of the market, where customers are more inclined to use self-service platforms to manage one-off and smaller orders - thus allowing the business to expand into previously untouched areas of the plumbing supply industry.
The release of the new phases of our project with Ferguson will further enhance the ability of customers at all levels to place orders and manage the status of their orders online, expanding Ferguson's reach and optimizing the customer experience across all touchpoints.
AAXIS Digital is committed to delivering enterprise digital solutions that deliver the results you need. Get in touch for more information on how we can support your business and help your online presence thrive.