Ferguson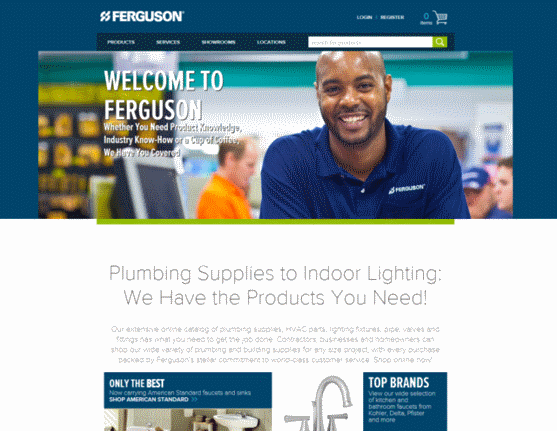 Company Overview
Ferguson raises the bar for industry standards as the top-rated wholesale supplier of commercial and residential plumbing supplies.
Service Areas
The Goal
Ferguson realized several years ago that their ability to leverage digital technologies to improve how their customers were able to do business with them, was going to be a key factor in allowing them to remain a leader in their industry, continue to grow and to successfully combat disruption coming from touch competition in the market. With over 2,400 retail locations, 23,000 associates, and over $14B in revenue, Ferguson's efforts to create highly engaging, effective, omni-channel experiences was going to be no small effort.
The Solution
Real-time omni-channel inventory across 1,300 stores and 10 DCs
Site redesign with more intuitive navigation (IA), product search, page designs and checkout (UX). Approvals workflow
Simplified quoting and contracts process with custom quoting.
Quick Ordering and quick re-ordering
Guest user access to product catalogs and checkout.
Accounting workflow
Bill Pay/Invoicing
Dozens of customer "self service" features.
The Results
Reduction in cost of sales due to a significant increase in self-service orders and reduction in customer service calls.
Increase in average number of products purchased per order.
Faster quoting and contracting process, resulting in improved customer satisfaction.
Improved conversion rates, due to easier and faster self-service checkout process.
Increase in site visits from mobile and tablet devices, due to new responsive design.