We can
help you migrate
to Salesforce Commerce Cloud

DOZENS
Certifications
Salesforce certifications across all layers of the platform: Architecture, Data, Development, Integrations, Administrator, Deployment, Identity, and more
HUNDREDS
Consultants/Developers
Cross-border development with centers in North America, Asia, and LATAM
Migrating to SFCC from Oracle Commerce

Previously the industry's top digital commerce platform for large enterprises, customers of the Oracle Commerce platform today find themselves compelled to migrate to another platform due to multiple reasons. The technology leader (CIO/CTO) is concerned with the outdated technologies stack and monolithic architecture. The digital business leaders and owners are offered very few, if any, innovative product features and roadmap in recent years. These issues, along with other traits of a sunsetting platform, significantly impact the value of the investment, especially when considering the substantial recurring maintenance and licensing costs--a significant challenge for Finance and Operations annually.
However, the process of migrating from the Oracle Commerce Platform can pose significant challenges and risks for many of our clients. It demands careful consideration of the numerous customizations that have been implemented over the years, a profound understanding of the requirements and objectives set by both the business and technology units within the organization, and the appropriate utilization of the capabilities offered by the new platform.
Oracle Commerce
Platform (OCP)
Knowledge
---
Companies bought Oracle Commerce for its powerful, modular base platform and the ability to extend precisely to meet business requirements that are often complex and unique to the customer's organization. Beyond the core commerce features, assess these key areas that are used and were customized prior to considering a new platform:
Personalization
User experience and layout management
Site content merchandising
Search and guided navigation
Product information management
User and organization management
Content & digital asset Management
Multi-site, multi-organization Management
Pricing, promotion, and discounts
Reusable components
Custom components and services
Event-driven workflows
Order management and fulfillment
Self-service capabilities
Integrations with 3rd party systems
Understanding of
the Business and
Technical Needs
---
Beyond lift-and-shift, the migration point is an opportune time to re-evaluate what's relevant to keep/forgo, what's important to change, and what's new to adopt. The journey must account for the current and future needs of the organization from the business and technology perspectives, such as the following:
Business Requirements & Goals
Unique requirements along key business workflows: order & quote capture, purchase approvals, pricing, inventory, and customer data.
Complete attribution of core data entities
Configurable products, personalize-able products, and other rule-based constraints.
Personalized content strategy
Sites management
Technology Requirements & Goals
Core development frameworks
Loosely coupled, service-oriented architecture
Extensibility of platform core behavior and data entities
On-demand scalability
Cloud-native technologies and tools
Utilizing the Salesforce
Commerce Cloud (SFCC)
Platform
---
SFCC offers many advantages by virtue of being a product of the first cloud-based CRM company. As a cloud-native platform, it scales easily and is designed for high-volume online transactions for B2C and B2B businesses. It integrates seamlessly with other Salesforce products commonplace to B2B companies, such as CRM and Sales, and some third-party services. Other benefits include:
Personalized customer experiences, easy build customized digital storefronts, and mobile apps with Einstein Recommendations
Mobile-friendly with a rich mobile experience
A key component of Customer 360, seamlessly integrates with Salesforce CRM and Marketing Cloud
Enhanced scalability and reliability on salesforce multi-tenant cloud platform, lower maintenance costs
Omni-Channel functionalities merge eCommerce, order management, and offline store operations in one SaaS solution, run business across multiple channels from a single platform
Predictive Intelligence – Salesforce Einstein AI Discovery and Prediction builder
Partner Ecosystem and AppExchange with additional features and services
MIGRATION STRATEGIES
There are numerous factors to consider when determining the most suitable migration approach for your situation. These factors include the overall migration timeline, internal budget, important business events, and organizational milestones that are closely connected. However, the two strategies most commonly observed are the "Big Bang" approach and the incremental decomposition of the monolithic Oracle Commerce platform.

BIG BANG
When the effort to sort out the intricate customizations of the Oracle Commerce platform is too large, and there's a stronger willingness to embrace the paradigm of the new than replicating the old, then this approach may be the most efficient form of migration.
Understand the out-of-the-box features and capabilities of the new platform

Identify the essential business requirements and must-have customizations, keeping in mind the new does not equal the old…and it's OK.

Implement the new platform and the necessary customizations

Define precisely all data mappings for the core and essential attributes

Soft-launch new systems to specific customers or full cutover if the risk is managed



Pros
Simplicity of transition in organizational alignment and change management

Potential time and cost savings

Less risk to data integrity as entire datasets are migrated at once

Reduced complexity in system designs and migration execution
Cons
High risk with significant impact to customers and organization

Steeper learning curve for business and technical users

Limited fallback option and/or costly rollback procedures




DECOMPOSITION
When the migration timeline is flexible and the current system is sufficiently abstracted and modularly designed, migrating incrementally may be the best risk-mitigated strategy to validate the target end points/platform, one by one. It aligns perfectly for those who envision a composable digital commerce system for their organization.

Typical Decomposition Method
Segregate the monolith into modular areas, e.g., experience management, search, content, core commerce, and so forth

Refactor the existing Oracle Commerce applications so that each module-specific features are accessed via service invocation

A/B test or completely switch out the invoked module with the corresponding services from the new platform

Repeat until only the core commerce is left, along with complete data migration
Pros
Reduced risk by small change scope

Incremental and continuous value delivery to the organization

Better adaptability to change next incremental phase based on user feedback

Continuous improvement cycles that are aligned with organizations who embrace Agile development methodologies
Cons
Prolonged migration timeline

Increased complexity and dependencies between modules and phases

Potentially higher total cost due to timeline and complexity
MIGRATION EXAMPLE
An example of an end-state architecture of a composable, headless digital commerce system with SFCC as the core services for commerce, search, and user experience.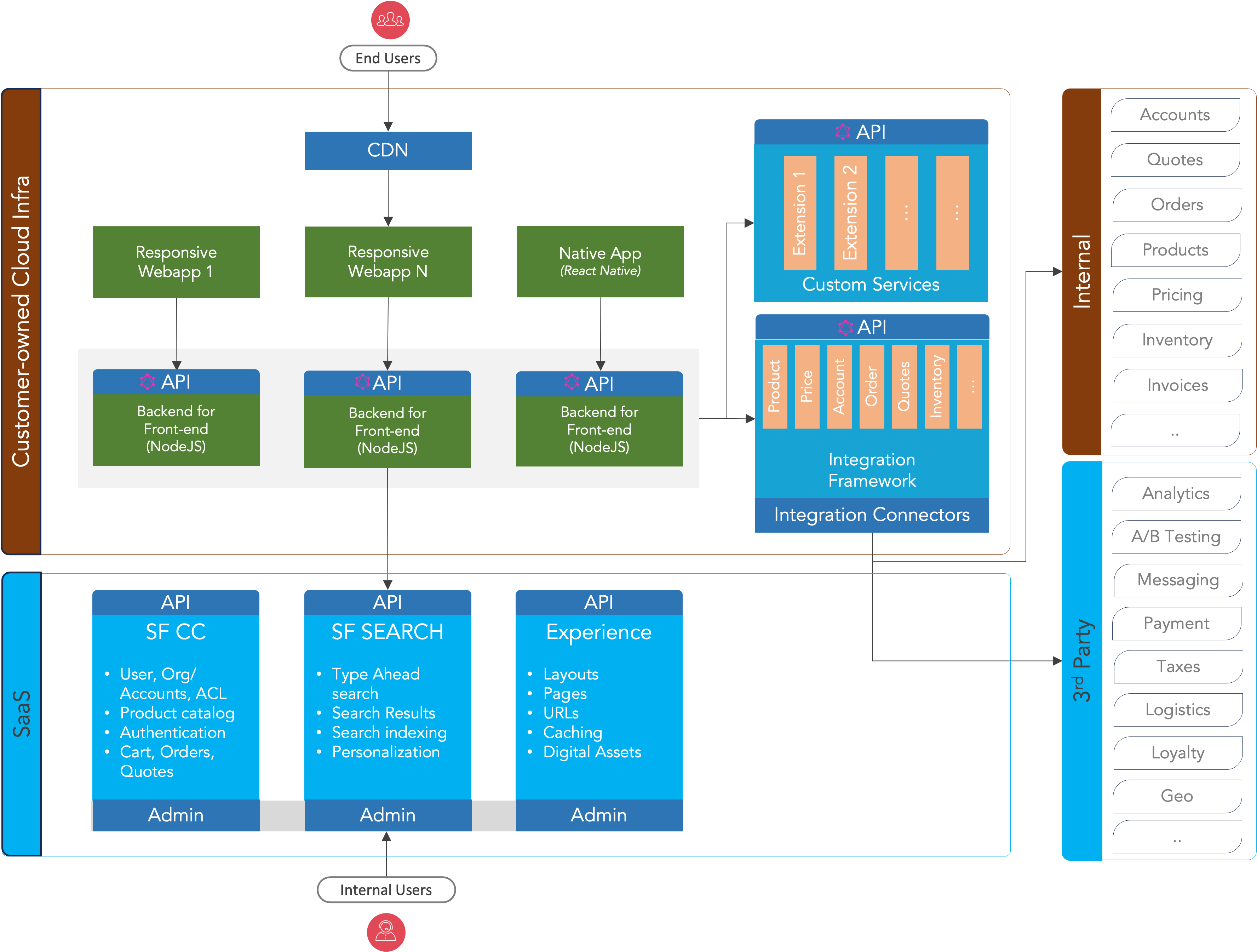 Let Us Know How We Can
Help With Your
Oracle Commerce
Migration
Learn more about our Oracle Commerce migration playbook that will de-risk your migration to Salesforce Commerce Cloud.