For many IT leaders, the transition to digital commerce in the cloud is a mandate for survival. After all, the cloud's advantages are many: increased efficiency, better business agility and speed, access to new technology paradigms and lower costs. Embracing the cloud can position your organization to be competitive and more efficient than ever before.
However, the roadmap to the cloud can be daunting and transformation isn't easy. As usual, technology is the most straightforward part. It's your organization's culture and operational approach that must undergo the most significant changes to take advantage the cloud.
Managed services is one key area that has evolved from the old world to the new world.
Understanding the shift from traditional managed services to managed cloud services could be the one factor that makes your voyage less treacherous.
---
On-Premise and Managed Hosting Solutions
To understand where we are today, it is best to look at where we have come from. Traditional managed services for eCommerce mostly focused on supporting heavy eCommerce applications that resided on fixed hardware hosted in physical datacenters and managed by an internal team or hosting provider.
These large enterprise-grade eCommerce architectures were monolithic systems that required specialized skill sets to keep them up and running. Development was handled in waterfall or waterfall-hybrid methodology, and releases to production were large orchestrated endeavors that sometimes took over three months to accomplish.
With a significant portion of annual eCommerce budget being spent on hosting and maintenance, managed services generated value by providing a robust operational process, skilled and experienced resources and the ability to minimize downtime and operate at a lower price than the customer could achieve on their own.
Enter the Cloud
The cloud changed everything. Computing power is now elastic and can scale easily to dynamically meet your needs. And setting up an eCommerce server and network resources can be handled in minutes instead of weeks.
The cloud has brought speed and opened up new capabilities and architectural paradigms. The cloud has also brought utility computing—allowing you to pay for what you use and gain the financial advantage of an OPEX expense.
Microservice and container-based architectures are now prevalent. Instead of monolithic applications, today's applications are typically composed of multiple microservices orchestrated to work together by smaller teams. It's also becoming more common for applications to be packaged as containers and managed by a container-orchestration system like Kubernetes. And this whole ecosystem is being controlled through a DevOps process that focuses on automating as many tasks as possible using tooling and monitoring to achieve a steady state of continuous improvement.
With many moving pieces in the architecture, millions of events and multiple agile workstreams, managed services has a different focus in the new world. Its value comes from being able to manage the complexities of moving quickly across very dynamic architectures.
In a space where cloud features and technologies are rapidly changing, an experienced managed cloud services team will be able to guide the technical and business strategies.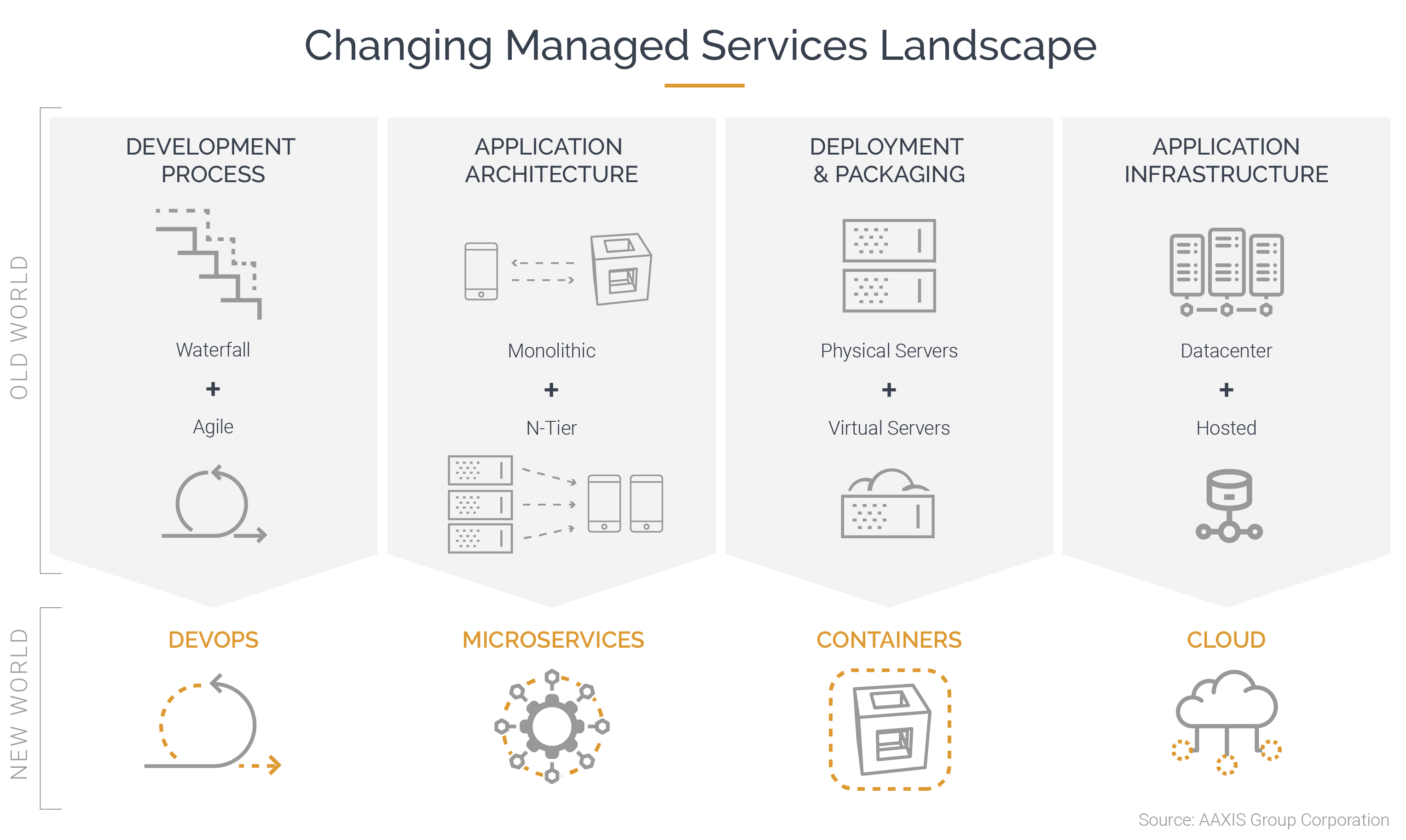 ---
4 Questions to Ask Your Prospective Cloud eCommerce Platform Vendor
1. Can you provide dedicated resources who will learn my business?
Vendors should add value. And getting the most out of your digital commerce platform is difficult when their resources don't have enough bandwidth or expertise in your business goals and existing systems and their digital commerce platform.
Managed cloud service providers should drive conversations with you, explaining the benefits, challenges and decisions you need to make when moving your digital commerce platform to the cloud, and then work with you to provide your business and team the skills needed to drive benefits.

2. How will you support my feature customizations and infrastructure integrations?
Your managed cloud service provider should approach the cloud story with a business-focused methodology, not the traditional mindset of keeping servers up and running.
If your digital commerce or SaaS vendor doesn't support or manage your customizations, connected systems integrations (ERP, PIM, OMS, WMS, CRM, email, etc.) or the non-production environments needed for internal development, your ability to fully and quickly take advantage of the cloud's benefits will be limited.
Managed cloud service providers should be specialists in the art of mapping business goals to cloud strategy, considering how they can support customer experience, digital commerce platform innovation and marketplace differentiation while looking holistically beyond the boundaries of the digital commerce platform.
3. How will you troubleshoot problem resolution within my ecosystem?
Your managed cloud service provider should be ready to deliver easily consumed services around core issues such as digital commerce migration, application and integration re-factoring and architecture modernization.
Speed and efficiency are impacted when a problem arises and your digital commerce vendor says the fault isn't on their side, their team isn't conversant enough in your customizations, integration ecosystem or architecture or they don't have access to it as an external vendor to troubleshoot quickly and with authority.
4. How will you integrate with my existing team and manage their skill progression?
It's challenging to put the needed processes and capabilities in place when your team doesn't have experience with the new technologies and development paradigms of your cloud/SaaS digital commerce platform. As previously mentioned, transforming your organization to these new models and adjusting your culture is most of the battle.
Cloud capabilities are growing rapidly. And your managed cloud service provider needs to stay ahead of trends and embrace a calculated risk mindset in terms of investing in their cloud certifications and capabilities while maintaining proficiency in legacy platforms to become a trusted advisor in helping you manage your full lifecycle.
---
Get the Most From Your Cloud Investment
There are many benefits to adopting a cloud-based digital commerce platform—and it is the right path for most companies. However, to take full advantage of these benefits you need a managed cloud services provider to help transition and support your digital commerce platform in the cloud.
Not all managed cloud services providers are created equal. You need a managed service provider whose focus and capabilities can help you add business value immediately, drive the business conversation and help achieve your business strategy.
You need a provider who understands the new development and cloud paradigms and is able to establish best practices quickly on your behalf, help your teams/culture evolve and help you meet customer expectations now and in the future.
---
Want to know more?
Contact us to learn more about getting the most out of your digital commerce cloud investment with
.