WOM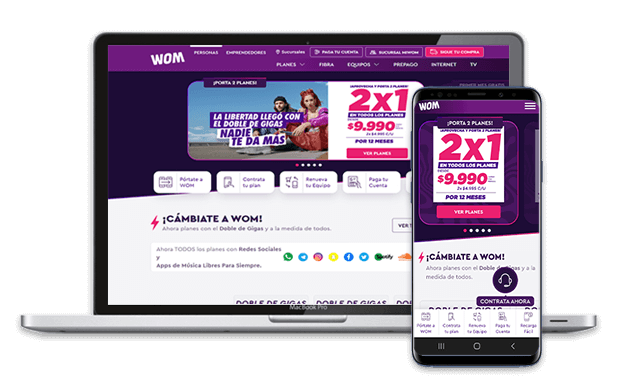 Company Overview
Founded in 2015 and based in Chile, WOM provides telephony and mobile internet services offering multimedia plans, prepaid and mobile equipment.
Service Areas
Challenge
WOM wanted to enable their new and existing customers to signup for postpaid lines, purchase/upgrade devices, and port existing phone numbers using a new digital channel without involving the call center or physical stores.

They also wanted to lower call center operating costs by allowing customers to have better self-care capabilities online and through using chatbots.
Approach
To enable digital commerce for customers to transact online, we began by re-architecting the existing enterprise systems to communicate through a composable, standard business language layer (TMF open API).
Integrated the Magento digital commerce platform with the standard TMF layer.

Enabled a new Cloud-based Contentful CMS solution to manage digital content across all the digital channels.
Implemented a new "headless" UX storefront that provided a highly performant and scalable presentation layer utilizing a micro-frontend design approach to support virtually unlimited eCommerce, self-care, and marketing sites.
Utilized the new TMF layer to quickly add a chatbot service supporting customer self-care and reducing call center costs.
Results
For the first time, customers were able to add new lines, port lines, pay bills and buy phones through the digital channel without having to call the call center or go to a physical store.
The new digital cloud architecture and DevOps processes enabled WOM to:
Dramatically improve the velocity & stability of feature rollouts through automated infrastructure provisioning, continuous feature delivery, and one-click deployments.
Expand, acquire and grow in multiple markets through easier integrations due to the new scalable and flexible technology stack.

Existing self-care will be migrated to new digital architecture in 2021 and new chatbot services will be integrated in Q1 2021.