- Customer Story -
WOM
Keen on enhancing the customer experience online, Chilean telco WOM wanted to offer more value - without hiking their operating costs.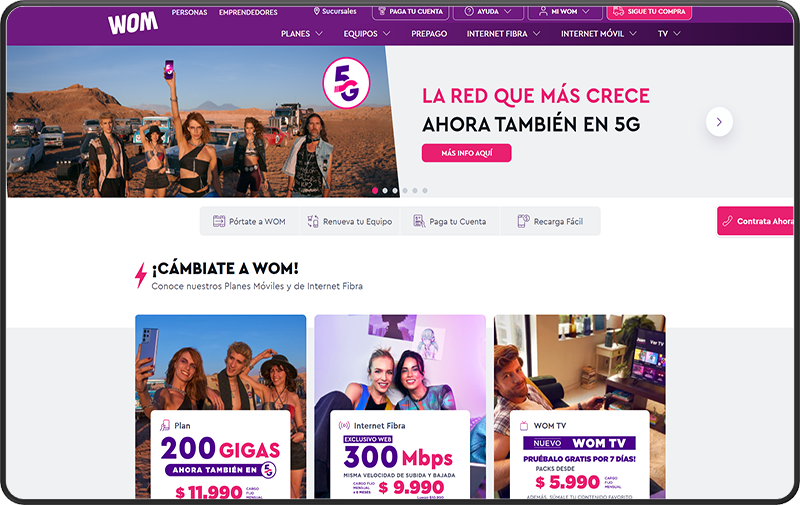 Who?
Founded in Chile in 2015, WOM is a telecommunications company with a difference — set on building innovation and customer excellence into everyday conversations and customers' ability to connect. The brand name WOM is derived from the acronym for 'Word of Mouth', drawing on the importance of communication which lies at the core of WOM's vision.
The main operational structure of WOM delivers telephony and mobile internet services through multimedia plans, prepaid and mobile equipment to customers - with plans for both individual users and business customers.
The business in numbers
>
0
Locations across Chile
0
millon+
Customers (and counting)
The Project
As a telecommunications company working with increasing numbers of customers every year, the leadership team at WOM felt that they could do more to enhance their use of technology to support customer needs — offering more services and features and optimising the user experience online.
The existing business model allowed customers to contact the central office at WOM through a phone line. However, increasing customer numbers meant that operating costs were on the rise and customer demand was starting to outweigh the resources available.
With the gaps in WOM's offering clear, we set about creating an online platform and digital channel that would give customers the same capabilities and more information, without the need for physical calls and store visits. WOM specifically wanted to give customers a place where they could upgrade and purchase devices, sign up for paid lines, and transport existing phone numbers onto new lines, without the demand for customer service phone calls.
Our Approach
As WOM were looking to enhance their customer's experience online, our approach began with a full assessment of their existing digital platforms — implementing a standard Communications Service Providers (CSP) business language layer to ensure that all operations were running through and from the same system and meeting the same standards. This required a full rebuild of enterprise systems using the TMF open application programming interface (API).
From there, we were able to integrate and extend the existing Magento Commerce platform with the standard TMF layer to build on top of the existing platform and add more customer features to enhance their experience.
Some of the main touchpoints and areas that we focussed on as part of this project included:
Enabling a new Cloud-based Content CMS solution that manages the rollout of digital content across all channels, ensuring consistent and timely messaging

.

Implementing a UX storefront which created a breakdown of several microservices, available for customers to learn more about and purchase different features and services.

The integration of a chatbot service to support customer care and reduce call center costs, using the new TMF layer on the website.
Every part of this project was designed to support an unlimited Digital Commerce system which gave customers access to the services and features they wanted to learn more about—without the need for customer service call staff.
Want to learn more?
Connect directly with an AAXIS expert today.
The Results
The main results can be observed in the increase in new customers that WOM is still seeing after implementing their new online platform, with customers moving onto the new digital platform dubbed WOM's 'self-care' site in 2021. The idea throughout the whole project has been to give customers access to more support when they need it, without increasing demand on customer service staff and call center resources. The new chatbot services were scheduled for integration in Q1 2021.
The main results observed upon completion of this project include:
A new digital cloud architecture that enabled WOM to dramatically improve the velocity and stability of feature rollouts —ensuring that each was consistent and fully operational with a simple one-click deployment.
The ability to expand, acquire, and grow across multiple markets through easy integrations, thanks to the new system that allows the business to scale and remain flexible.
Customers can now add new lines, port lines, pay bills, and buy phones through an entirely self-service Digital Commerce experience. As a result, sales are continuing to rise exponentially.
AAXIS Digital is committed to delivering enterprise digital solutions that deliver the results you need. Get in touch for more information on how we can support your business and help your online presence thrive.