Vermont Country Store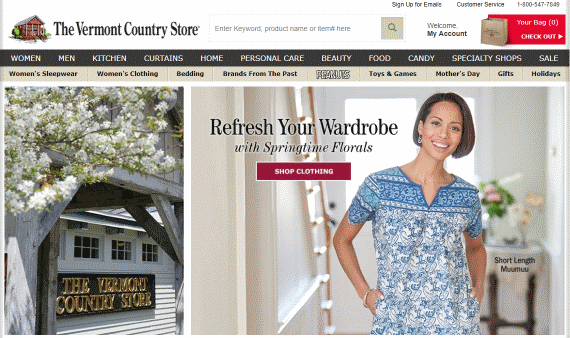 Company Overview
The Vermont Country Store is owned by Lyman Orton and sons Cabot, Gardner, and Eliot, 7th & 8th generation Vermonters, and 4th & 5th generation storekeepers. They adhere to the old-fashioned values set forth by Vrest and take pride in being Purveyors of the Practical and Hard-to-Find. In today's global economy, merchants at the Vermont Country Store search throughout the nation and abroad to find goods that fill the needs of American and international customers alike. Speaking for the Orton family, Eliot says, "We still go to great lengths to find products that aren't sold anywhere else."
Service Areas
The Goal
The Vermont Country store was faced with an ATG/Endeca complex "on premise" implementation. The first goal was to reduce technical staff and costs of maintaining the system. The second goal was to speed the time in which business users could change the site and reduce IT dependencies.
The Solution
Migrate all store features and capabilities from the existing on-prem Oracle ATG and Endeca platform to the new Oracle Commerce Cloud solution.
Maximize the use of user friendly merchandising, marketing and business oriented administrative features and capabilities to help the marketing teams make quick and easy updates to the site without needed help from technical resources in IT.
Train IT throughout the transition to cloud-based solution to ensure the VCS technical team had a complete understanding of how to manage the new, modern architecture of the Oracle Commerce Cloud solution.
The Results
Increased Sales due to improved merchandising of products and promotions.
Increased Sales due higher reliability of online transactions during peak business hours.
Increased Conversions due to having more relevant product and order information available online.
Increased Conversions due to a significantly improved, more intuitive user experience and site navigation experience.
Major Cost Reductions due to less involvement of IT to publish merchandising, promotional and marketing updates.