Stanley Black & Decker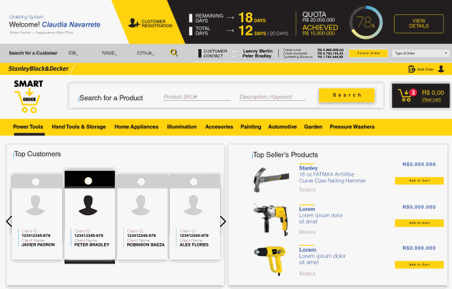 Company Overview
For the builders and protectors, for the makers and explorers, for those shaping and reshaping our world through hard work and inspiration, Stanley Black & Decker provides the tools and innovative solutions you can trust to get the job done—and we have since 1843.
Service Areas
The Goal
Stanley Black & Decker saw a significant opportunity to increase top-line revenue and expand market share by offering their dealers and distributors an easy to use ordering system online.

Their goal was to serve their customers better by automating certain ordering activities, speeding up the end-to-end ordering process and to provide customers with more and better information about their products and services online, making it easier for customers to decide what to purchase.
The Solution
Completely redesign the dealership and distributor user experience with next generation B2C and B2B functionality
Easy ordering from desktop, tablets and mobile devices
Offline integrating into a native mobile application capable of being used even in the remotest of locations without cell phone coverage.
The Results
Major Cost Reductions due to automating aspects of the purchase process which reduced the number of calls into the call center and reduced the amount of manual work.
Faster Time To Market for launching new website updates and features, due to the business and marketing teams reducing their need for IT support and due to the modern technology capabilities of VTEX.
Lower Total Cost of Ownership due to VTEX's next generation architecture and multi-site flexibility, allowing for a low-cost model to expand the solution to over 30 countries at a fraction of the cost of other solutions in the market.