Sodimac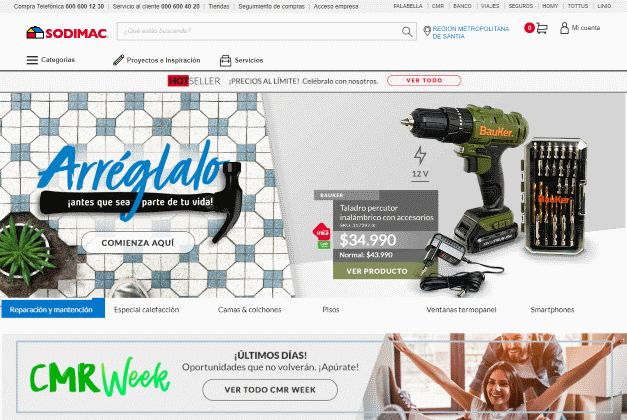 Company Overview
Sodimac Homecenter is a Chilean home improvement warehouse store chain. Besides Chile, there are stores in Argentina, Colombia, Peru, Uruguay and Brazil.

In March 2015 Sodimac opened the doors to the public of its first store in Uruguay; in June of the same year its first store opened in São Paulo, Brazil and in April 2016 announced the arrival in Mexico together with the local supermarket chain Soriana.
Service Areas
The Goal
In 2011, Sodimac saw an opportunity to grow the online sales and realize the benefits on omnichannel retailing. Their goal was to grow market share and top-line growth of their entire retail business and better leverage digital.
The Solution
Implemented a new multi-Site architecture using both shared and independent code components.
Developed site-specific level control of product availability, pricing, shipping charges and methods.
Site level management of marketing content, catalogs data, promotions, and merchandizing.
Saved Carts & Wish Lists
Search My Previous Orders
Additional payment gateways for Latin America
Merchandiser training on how to best the new business user tools and maximize the effectiveness of the technology features of the platform.
The Results
Revenue Increase with the successful launch of additional online Sodimac stores in Peru and Argentina.
Conversion Rate Increases, due to the merchandising and marketing teams having more control of the customer experience, allowing those teams to create and test different webpage and designs without the need of IT support.
Operational Costs for maintaining the ecommerce platform and performing updates and new features dropped significantly.
Online Checkout Experience was made easier and faster than before, reducing the number of customer calls for help related to online orders.
Self Service Features, such as allowing a customer to review details of orders, re-order, cancel orders, etc., helped reduce operational costs..
Platform Performance improvements helped with faster loading times for pages during peak traffic periods.