- Customer Story -
Novae
Matching customers to rewards, Novae works with banks to identify and nurture meaningful connections between consumers and the money they spend.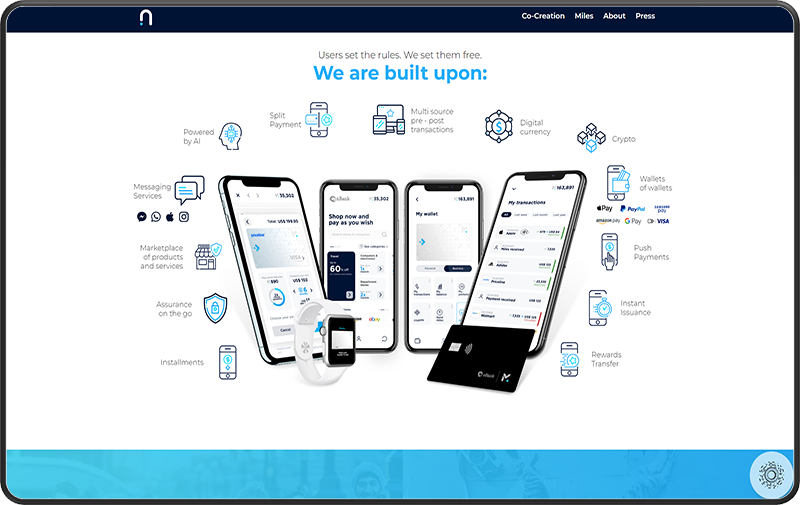 Who?
Novae is a mobile-first B2B smart payments FinTech platform, delivering solutions that elevate the opportunity for engagement and rewards through the payment process. With an aim of integrating payment solutions into users' natural online behavior, Novae's goal is to give banks the ability to get to know their customers while collecting and processing payments - understanding how they like to shop and embedding rewards into the digital experience to help user loyalty reach new levels.
The business model is simple. Novae currently partners with 74 banks across 32 countries, thus giving the customers of each of those banks access to the Novae scheme. This scheme then creates behavioral understanding and economics to build conversation and the human touch into banking and finance and empowers users to have more control through features such as:
Messaging services

Split payments

Multi-source pre-post transactions

Digital currency

Push payments

Rewards transfer, and lots more
The business in numbers
0
Banking partners (and counting)
The Project
While Novae's rewards platform was already active across 32 different countries in 74 banks, the banks themselves were providing limited information to their customers regarding the My Rewards platform and its benefits. Because of the lack of information about the program, cardholders across each of the banks were not completing registration and so were not benefitting from the rewards available to them through their everyday spend.
Further, it was found that even when registration was completed, there was no process in place which was drawing in and presenting how users / cardholders were redeeming their points balance.
Novae reached out to AAXIS to find out how to use data insight and machine learning to drive their understanding of how customers were using the rewards platform and the points they earned. The idea was to then use this insight to power outbound marketing efforts and customer acquisition.
Our Approach
The first part of our project with Novae involved a full audit of the existing mobile app and the underlying platform, in order to understand what data was available and how it could be used to uncover more about user behavior and preference. We then set about optimizing the user insight to ensure information was being fed back to the company and its B2B clients.
This involved:
Reviewing and improving data and analytics tagging

Setting up and activating a central data repository on the Google Cloud Platform

Integrating key systems and data flows through the Google Cloud Platform

Building list generation capabilities in Google Cloud Platform, with integration into a marketing automation system (Mailchimp) - to centralize all communications to the different user lists
The second phase of the project involved taking the data collected and using the insight to segment users and inform effective outbound marketing campaigns. The idea behind this was to ensure that users were getting the right communications based on their usage of the platform and rewards.
This meant personalizing campaigns for specific cardholder segments and users, automating the setup of each campaign, and connecting the campaign according to the purchase behavior and how the app was being used.
Want to learn more?
Connect directly with an AAXIS expert today.
The Results
Since embedding more data insight into the program and working with Novae to ensure that all campaigns are tailored to the users' individual behavioral traits, we have seen campaign open rates increasing by 15% through personalization. This means that Novae's own clients are seeing more of their customers activating and using the rewards system - with mobile app logins increasing by 200% once the segmentation and personalization phase was complete.
AAXIS created a framework through which Novae could measure the effectiveness of each campaign based on purchase behavior before and after using the rewards app - providing greater insight than the standard open rates and click through rates. This meant that Novae could identify the best time to send campaigns and emails to the different target segments, improving open rates by around 170%.
Finally, thanks to the implementation of targeted campaigns and optimized audience outreach through banks and through the app itself, Novae saw an increase in active mobile app users of around 900% in the first three months alone. This percentage is set to continue to rise as more audience segmentation and personalization options are rolled out.
AAXIS Digital is committed to delivering enterprise digital solutions that deliver the results you need. Get in touch for more information on how we can support your business and help your online presence thrive.