Musician's Friend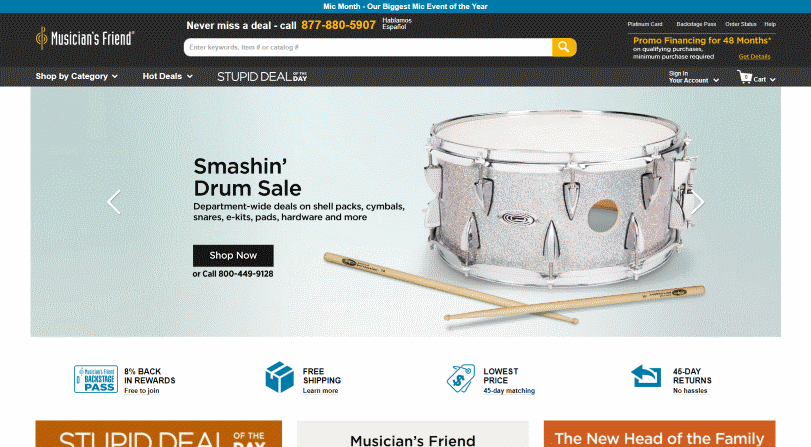 Company Overview
We've come a long way from our dairy barn. Today we have multiple locations around the U.S. to provide quick delivery and excellent customer service. Our corporate headquarters is based in sunny Westlake Village, CA. Our two support centers reside in Salt Lake City, Utah and Indianapolis, Ind. Finally, our 700,000 ft distribution center is in Kansas City, MO.
Service Areas
The Goal
In 2009, Musician's Friend (internet retailer #44) partnered with AAXIS Commerce to develop a complete overhaul of the commerce solution based on the Oracle Commerce platform.

Their goal was to drive significant improvements across all ecommerce KPIs by creating world class customer experiences, as well as developing best practices for how to administer and manage their +billion dollar online business.

A key part of Musician's Friend's strategy was to develop better marketing and merchandising tools that would allow for faster, iterative innovation around the customer experience. Doing so would allow Musician's Friend to achieve their revenue growth goals faster.
The Solution
Complete enterprise commerce platform implementation with dozens of integrations across ERP, CRM, enterprise system bus, order management, analytics, etc.
Real-time customer behavior analysis and segmentation and targeting based on real-time behavior.
Full integrated AB Testing solution using Adobe Test-and-Target, allowing for continuous optimization of the customer experience.
Highly flexible page template management designs, to allow Marketing to have full control of new layouts, without requiring additional IT investment.
Multi-site enablement, using one platform to power multiple sub-brands.
Custom "Tag Manager" solution, allowing business users to manage campaign and affiliate tags without IT, as well as create segments and targets based on specific "tag" attributes.
Search Engine Optimized site architecture.
Dynamic landing page expansion based on "multiple keywords" from the most common search terms and refinements. This is address organic search on things like "Fender Stratocaster" , "Gibson SG", etc.
Automatic creation of landing pages with SEO URLs, meta data, Product images, etc., based on sophisticated product grouping.
Complex promotion stacking rules to allow for granular control on what promotions can stack with what, helping to drive sales conversions.
The Results
Oracle Endeca Guided Search
Improved quality and relevancy of product search results.
Allowed users to easily narrow search results by ~20 different product related attributes, such as 'brand', 'price', 'customer rating', 'color', 'style', etc.
Provided users with a 'guided navigation' experience, at the product category and sub-category level, offering relevant suggestions to users.
Provided website administrators with user-friendly tools to manage 'search relevancy rules', with the ability to automatically prioritize the ranking of products based on business rules, such as 'inventory levels', 'number of days on site', 'days remaining in promotions', etc.
Oracle Endeca Experience Manager
Improved controls to make real-time content changes to the site, without IT involvement.
Provided more control of customer experience, to increase conversion rates, by improving controls to create and test different webpage layouts and designs.
Oracle ATG
Developed integration between ATG and Heiler. Heiler was the Product Information Management (PIM) system which managed taxonomy, product, brand and media data for the enterprise.
Implemented TIBCO to handle the data transformation process between Heiler and ATG.
Optimized flow processes between Heiler, TIBCO and ATG.