- Customer Story -
Lawson Products
Lawson Products needed a digital commerce supply platform to support their customers with the products they required to be successful.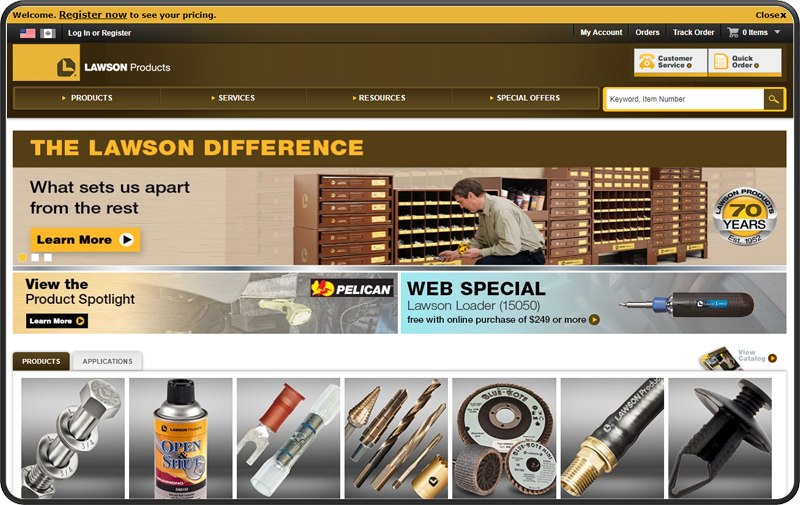 Who?
A digital commerce supply platform and distributor for a collection of industries, Lawson Products works with businesses to ensure they have access to the specialty products they need to support and manage their operations.
Lawson Products prides itself on delivering an extensive product offering that enables customers to be as effective and productive as possible. This includes supporting customers in selecting, sourcing, and managing products as per their individual needs.
The company is headquartered in Chicago and provides product information, knowledge, and distribution services - making it a valuable asset for businesses of all sizes. Distribution is based across a series of strategically located centers around North America to serve all 50 states - showcasing the vast Lawson Products reach in the USA.
The business in numbers
The Project
With such a vast footprint through its field sales teams and distribution centers located all over North America, customers are invited to work with a Lawson representative in providing solutions through products, services, and innovative support - all under the command of a fine-tuned budget and customer pricing model.
With the business looking for a way of growing more efficiently and effectively to meet the growing customer demand for a comprehensive online purchase experience, Lawson decided they needed to replace their current digital commerce platform. The idea was to create an online experience that delivered modern capabilities to support their B2B sales, including presenting an end-to-end purchase process for customers while ensuring that inventory, stock levels, and complex customer pricing were accurately maintained.
The brief included the need to migrate multiple brand sites, which maintained all the current information on products, customers, and industry, with the added benefit of more modern digital commerce features, integration with third-party apps, promotional features for marketing purposes, more advanced product search capability, and personalized segments on the website for individual users within a Customer company.
The final focus of this project was to consider the financial implications of maintaining the site while merging with the previously independent field sales channel. Lawson Products needed an all-inclusive cloud-based B2B digital commerce solution that could also serve as a field sales tool that provided economies of scale across sales processes and reduced maintenance overheads.
Overall, AAXIS was enlisted to address the following main problems:
An aging platform that no longer supported updates or modern digital commerce user needs was not cost-effective and required long development & release cycles to customize and add new features.
Feasibility to extend the existing platform to serve as a field sales tool. The cost to customize the existing platform was prohibitive and made a separate field sales tool necessary.
Feasibility to deploy complete access security for the existing platform and across the other systems into the broader ecosystem.
Lack of robust customer and system administration capability.
Our Approach
The focus of this project was to introduce a new digital commerce platform that would be more cost-effective for the business and present more modern capabilities to users both within the company and on the customer side while enhancing the user experience and making business operations more streamlined.
Lawson Products chose Oro Commerce as their new platform, a platform that would support Lawson Products' ability to react more quickly to market events, provide more cost-effective site management, and solve the challenge of a distinct gap between digital and field sales.
AAXIS was involved from the beginning of this process and submitted a proposal for migrating the Lawson Products websites to the new platform without impacting current business operations while maintaining a high level of service to all users with minimum disruption. In practice, this meant:
Migrating years of complex business logic and management into a modern system using standard platform features that reduce the need for customizations. Under their previous system, Lawson had heavily customized the platform to reflect their specific requirements - making routine platform updates challenging to apply and resulting in Lawson Product's need outgrowing their previous supplier. By using Oro Commerce, Lawson Products could support such customizations in a more stable way thanks to the architecture of the new Oro Commerce platform.
Integrating a multitude of systems with the new platform to provide security, accurate pricing, analytics, marketing, and more.
Planning the implementation of a field sales app for sales agents - giving them the ability to look up products, prices, customer orders, and other information when they're out and about engaging with their customers. This extensive use of the digital commerce solution for the field sales side of the business would give Lawson Products greater visibility over inventory, sales performance metrics, and trends in business growth.
The main priority behind the project was to implement a new digital commerce platform that not only maintained the existing customer capabilities but provided new ones to support business growth, giving users access to more of the information they need and streamlining the process from a backend process perspective using the Oro Commerce platform.
Want to learn more?
Connect directly with an AAXIS expert today.
The Results
From a business operations perspective, Lawson Products business users were presented with improved B2B platform capability, better marketing control over the various elements of the site, and the launch of a cohesive sales rep experience to bring field sales in line with digital commerce using a unique sales app. Lawson Products' customers also received far greater accuracy around the pricing and stocking levels of different products and better control over search results.
The new platform offered far better security for all users, making the Lawson Products website a safe online experience that could respond to market events and product changes far more efficiently than before.
Other notable results and improvements include:
Single sign-on for users with improved access security
Drastically reduced upload time for new features and customizations
Reduced cost of ownership - both with regards to web hosting fees and the cost of website development support
Improved load time for the product catalog
AAXIS Digital is committed to delivering enterprise digital solutions that deliver the results you need. Get in touch for more information on how we can support your business and help your online presence thrive.