Falabella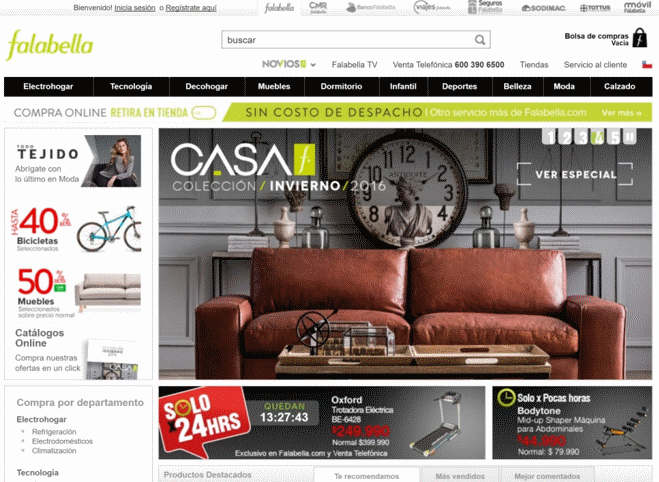 Company Overview
Founded in 1889 as a tailor, Falabella has continuously evolved to become one of the main players in the region, with a presence in Chile, Peru, Colombia, Argentina, Brazil, Uruguay and Mexico, comprising retail, shopping centers, travel, insurance and consumer credit, and with combined sales that exceed US$ 14,500 million.
In the last 5 years, the company has opened 3 new markets: Brazil (2013); Uruguay (2014) and Mexico (2016); and has begun its digital transformation to consolidate itself as one of the most important e-commerce players in the region. Online sales reached US$ 823 million in the last twelve months.
Service Areas
The Goal
Falabella is the largest retailer in South America and the 16th largest in the world. 2015 sales reached ~$14B USD. In 2015, Forbes ranked Falabella as #61 in the list of "Most Innovative Companies" in the world. Falabella operates across Chile, Argentina, Peru and Colombia.

Back in 2010, Faabella saw an opportunity to begin making significant investment in digital commerce, with the goal of growing online revenues 10x over the next seven to eight years.

When starting on their digital growth initiative, Falabella knew they would need the right strategic and technical partner to help them develop the world-class digital and integrated omni-channel retail capabilities needed to grow market share, customer lifetime value and significant top-line revenue growth.

In 2010, AAXIS was selected by Falabella as their digital commerce partner. Eight years later, AAXIS is still a key partner with Falabella, helping them continue to innovate and remain the number one retailer in the South American region.
The Solution
Click-and-Collect
Buy Online from one store and ship to different store, home or locker.
Buy in-store, ship to home or locker.
Customer Service call-center can order for customer online and ship to home, any store or locker.
Customer Service in-store can buy online, process transaction using in-store POS, and ship to home, any store or locker.
Returns at any store or via mail.
Mobile Responsive Site
Endless Aisle In-Store
Gift Card, E-Card & Gift Registry
Store within a store merchandising.
Private Label Credit Card (~70% of transactions.) integrated heavily with Loyalty Program.
Flash Sales
Single-Sign-On across web properties.
Fraud "Soft Hold" Integration with Siebel
Saved Carts & Wish Lists
Search My Previous Orders
Optimization of pick-and-pack across all warehouses.
The Results
Improved conversions and quality of shopping experience.
Improved performance and scalability of commerce platform
Provided more control of customer experience, to increase conversion rates, by improving controls to create and test different webpage layouts and designs.
Improved controls to make real-time content changes to the site, without IT involvement.