- Customer Story -
Braskem
Braskem wanted to become a digital leader - our job was to help them get there.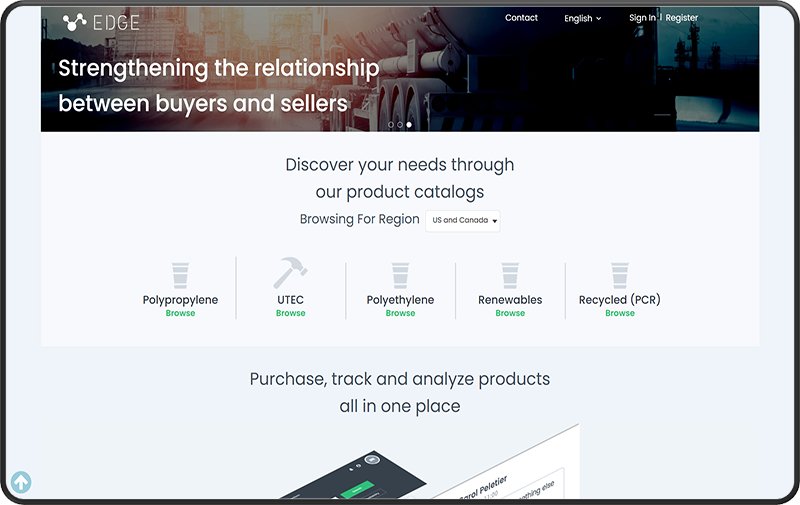 Who?
There is a selection of materials that are used to create so many everyday items that naming them would take all day. Braskem is a company that deals with the production of these materials, including being the largest producer of polypropylene in the United States. A significant player in the chemical and petrochemical industry, Braskem works on both first and second-generation thermoplastic resin used to contribute toward a sustainable future and to continue to run a scalable and efficient business model.

To support complete integration for the customer, Braskem is present all over the world with customers spread across 70 different countries.
"Our EDGE platform has helped us transform the way we interact with our customers. We can now offer sales order information and shipment tracking in real time and reduce non-value-added work for both our clients and our inside sales teams. Additionally, the flexibility of the platform has allowed us to listen to the voice of our customers and improve the functionality as user adoption grows."

Jason Vagnozzi, Commercial Director Additive Manufacturing & New Ventures at Braskem
The business in numbers
0
years of Business after being formed by the integration ofsix companies in the industry
0
factories around the world
0
millon+
metric tons of thermoplastic resin and other chemicalsbeing produced every year
The Project
Despite being the biggest name in the industry, Braskem felt that its operations were behind in terms of digital disruption, with the last major turning point in the chemical and petrochemical industry being the introduction of placing orders via email back in the 1990's. Braskem believed they could harness digital technology as a means of not only attracting customers but engaging them and sharing their industry insight across digital and online touchpoints.

The first part of our project with Braskem included a test of different customer features through an online experience, to ascertain if this was something that customers would respond positively to. We designed a minimum viable product system and found, after 5 months of testing, that the demand for a digital portal in the industry was high.

With this gap in the market now clear, we set about working with Braskem and our commerce technology partner Oro Commerce to replace traditional, predominantly offline, processes with innovation - helping Braskem become a digital leader in the shift towards more innovative customer engagement.
Our Approach
As this entire project was new territory for both the business and the industry as a whole, our approach with Braskem was to further understand customer needs and create a rapid-prototyping method which would release features continually and gain feedback on its popularity. The idea behind this was to garner the support of existing customers and constantly grow the audience by slowly encouraging other customers to exchange manual processes with digital features.
Some of the key touchpoints we focussed on included:
The provision of a dashboard where customers could receive personalised insight into previous orders and forecasting for future orders.
Digital self-service capability with online ordering, order status, analytics and tracking – including real-time truck and railcar tracking – thus making the entire customer journey more self-sufficient and streamlined.
Collaboration between sales teams in different locations, facilitating different sample requests and the provision of products to fit specific industrial processes.
Engagement of the sales teams who would be supporting the customer shift towards this new model of working.
The idea behind the project – which Braskem branded the EDGE platform – was to create a standard for the industry and introduce customers to the new digital journey without overwhelming them or driving them away from the company. Collaboration and a gradual adoption of technology was key at every touchpoint of this project, to support both staff and customers.
Want to learn more?
Connect directly with an AAXIS expert today.
The Results
First, for some resulting stats.
2020 - year on year sales entry grew by 274%
2020 - customers using the EDGE platform grew by 300%
2020 - 3 of their business units grew from 10% online sales to 80%+ online sales
Between 2019 and 2020, they grew from 4 business units using EDGE, to 11 business units using EDGE
The major result for Braskem was the ability to give customers the information they needed without wasting valuable customer service resources on manual calls and order status checks. The real-time tracking of rail cars and truck shipments through EDGE allowed customers to receive greater insight and thus allow for more accurate and efficient project planning.
Customers were also able to understand their previous requirements and place forecasting orders based on the materials they expected to need in coming periods - thus streamlining and making the order process easier and more efficient.
Other results and USPs of the EDGE platform include:
An improved customer experience due to increased information available when users need it.

A hub of information for customers regarding invoices, bills, shipment documents, etc.

The ability to efficiently add new features per customer demand and newfound needs across the digital channel.

Integrating with Braskem Product Master Data to provide accurate and relevant information to the customers in one place.

Tracking full Order Lifecycle irrespective of where the order originated; In Edge or from the Sales Rep.
AAXIS Digital is committed to delivering enterprise digital solutions that deliver the results you need. Get in touch for more information on how we can support your business and help your online presence thrive.