Ashford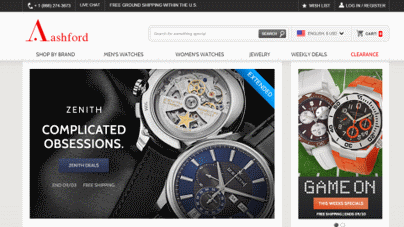 Company Overview
We are headquartered on 5th Avenue – New York City's most prestigious shopping district. Although Ashford.com has been in business since 1997, our parent company acquired the site in 2007. Since then we have been striving to build the business and provide the best possible customer experience.
Service Areas
The Goal
Ashford, one of the global leaders in the online watch retail vertical, saw a massive opportunity to drive additional revenues by improving sales through their mobile channel. Though traffic to their mobile site was significant, the conversion and repeat visitor rates were significantly below the same metrics from their desktop site. The goal was to fix the issues on their mobile site that were causing visitors to abandon and not come back.
The Solution
Analyze user mobile site interactions to identify exactly where users were having issues or abandoning the site.
Interpret the user behavior "friction" we were seeing and translate that into a clearer understanding of users' buying intent.
Redesign of the entire mobile experience from page layouts, UX design, navigation, icons, purchase flow and checkout flow.
A great deal of attention was focused on simplifying the navigation and the checkout process.
Native responsive CSS on the commerce platform to achieve full control of the design, optimal performance and maximum reuse of other important features and capabilities existing within the commerce platform.
The Results
Responsive Mobile Site
Launched: July 7th
Project length: 12 weeks
KPIs Pre and Post Launch of new Mobile Site
Pre-Launch June Mobile Rev: $90,000
Post-Launch July Mobile Rev: $570,000
Mobile Revenue Lift Month over Month