So How Big is Big?
Scientists, technologists, engineers, and visionaries are building the future. Amazing things are in the pipeline. It's a big deal. But you already knew all that. Such speculation is common. What's less common? Scale.
How big is big?
"Silicon Valley, Silicon Alley, Silicon Dock, all of the Silicons around the world, they are dreaming the dream. They are innovating," Catherine Wood said at Singularity University's Exponential Finance in New York. "We are sizing the opportunity. That's what we do."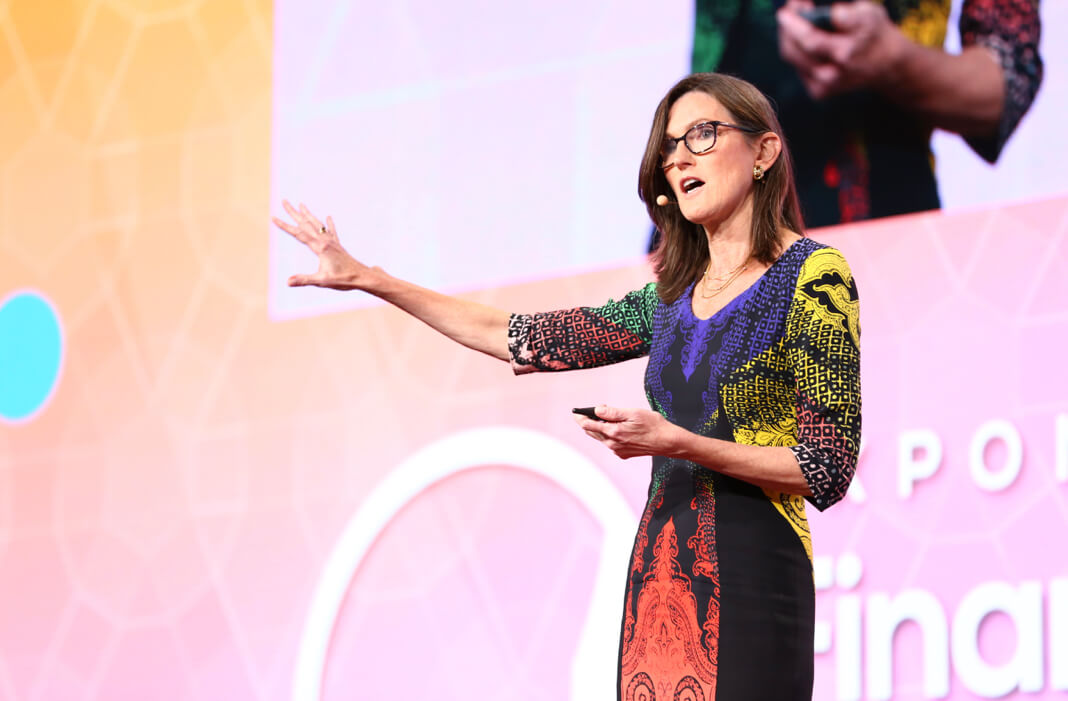 Wood is founder and CEO of ARK Investment Management, a research and investment company focused on the growth potential of today's disruptive technologies. Prior to ARK, she served as CIO of Global Thematic Strategies at AllianceBernstein for 12 years.
"We believe innovation is key to growth," Wood said. "We are not focused on the past. We are focused on the future. We think there are tremendous opportunities in the public marketplace because this shift towards passive [investing] has created a lot of risk aversion and tremendous inefficiencies."
In a new research report, released this week, ARK took a look at seven disruptive technologies, and put a number on just how tremendous they are. Here's what they found.
(Check out ARK's website and free report, "Big Ideas of 2017," for more numbers, charts, and detail.)
1. Deep Learning Could Be Worth 35 Amazons
Deep learning is a subcategory of machine learning which is itself a subcategory of artificial intelligence. Deep learning is the source of much of the hype surrounding AI today. (You know you may be in a hype bubble when ads tout AI on Sunday golf commercial breaks.)
Behind the hype, however, big tech companies are pursuing deep learning to do very practical things. And whereas the internet, which unleashed trillions in market value, transformed several industries—news, entertainment, advertising, etc.—deep learning will work its way into even more, Wood said.
As deep learning advances, it should automate and improve technology, transportation, manufacturing, healthcare, finance, and more. And as is often the case with emerging technologies, it may form entirely new businesses we have yet to imagine.
"Bill Gates has said a breakthrough in machine learning would be worth 10 Microsofts. Microsoft is $550 to $600 billion," Wood said. "We think deep learning is going to be twice that. We think [it] could approach $17 trillion in market cap—which would be 35 Amazons."
2. Fleets of Autonomous Taxis to Overtake Automakers
Wood didn't mince words about a future when cars drive themselves.
"This is the biggest change that the automotive industry has ever faced," she said.
Today's automakers have a global market capitalization of a trillion dollars. Meanwhile, mobility-as-a-service companies as a whole (think ridesharing) are valued around $115 billion. If this number took into account expectations of a driverless future, it'd be higher.
The mobility-as-a-service market, which will slash the cost of "point-to-point" travel, could be worth more than today's automakers combined, Wood said. Twice as much, in fact. As gross sales grow to something like $10 trillion in the early 2030s, her firm thinks some 20% of that will go to platform providers. It could be a $2 trillion opportunity.
Wood said a handful of companies will dominate the market, and Tesla is well positioned to be one of those companies. They are developing both the hardware, electric cars, and the software, self-driving algorithms. And although analysts tend to look at them as a just an automaker right now, that's not all they'll be down the road.
"We think if [Tesla] got even 5% of this global market for autonomous taxi networks, it should be worth another $100 billion today," Wood said.
3. 3D Printing Goes Big With Finished Products at Scale
3D printing has become part of mainstream consciousness thanks, mostly, to the prospect of desktop printers for consumer prices. But these are imperfect, and the dream of an at-home replicator still eludes us. The manufacturing industry, however, is much closer to using 3D printers at scale.
Not long ago, we wrote about Carbon's partnership with Adidas to mass-produce shoe midsoles. This is significant because, whereas industrial 3D printing has focused on prototyping to date, improving cost, quality, and speed are making it viable for finished products.
According to ARK, 3D printing may grow into a $41 billion market by 2020, and Wood noted a McKinsey forecast of as much as $490 billion by 2025. "McKinsey will be right if 3D printing actually becomes a part of the industrial production process, so end-use parts," Wood said.
4. CRISPR Starts With Genetic Therapy, But It Doesn't End There
According to ARK, the cost of genome editing has fallen 28x to 52x (depending on reagents) in the last four years. CRISPR is the technique leading the genome editing revolution, dramatically cutting time and cost while maintaining editing efficiency. Despite its potential, Wood said she isn't hearing enough about it from investors yet.
"There are roughly 10,000 monogenic or single-gene diseases. Only 5% are treatable today," she said. ARK believes treating these diseases is worth an annual $70 billion globally. Other areas of interest include stem cell therapy research, personalized medicine, drug development, agriculture, biofuels, and more.
Still, the big names in this area—Intellia, Editas, and CRISPR—aren't on the radar.
"You can see if a company in this space has a strong IP position, as Genentech did in 1980, then the growth rates can be enormous," Wood said. "Again, you don't hear these names, and that's quite interesting to me. We think there are very low expectations in that space."
5. Mobile Transactions Could Grow 15x by 2020
By 2020, 75% of the world will own a smartphone, according to ARK. Amid smartphones' many uses, mobile payments will be one of the most impactful. Coupled with better security (biometrics) and wider acceptance (NFC and point-of-sale), ARK thinks mobile transactions could grow 15x, from $1 trillion today to upwards of $15 trillion by 2020.
In addition, to making sharing economy transactions more frictionless, they are generally key to financial inclusion in emerging and developed markets, ARK says. And big emerging markets, such as India and China, are at the forefront, thanks to favorable regulations.
---
Continue reading the full article at https://singularityhub.com/2017/06/16/the-disruptive-technologies-about-to-unleash-trillion-dollar-markets/
---